The History of Bees
The best selling book in any genre in Germany in 2017
Sold to 38 territories
Winner of the Norwegian Bookseller's prize 2015
"Quite simply the most visionary Norwegian novel I have read since the first instalment of Knausgård's 'My Struggle'." Expressen, Sweden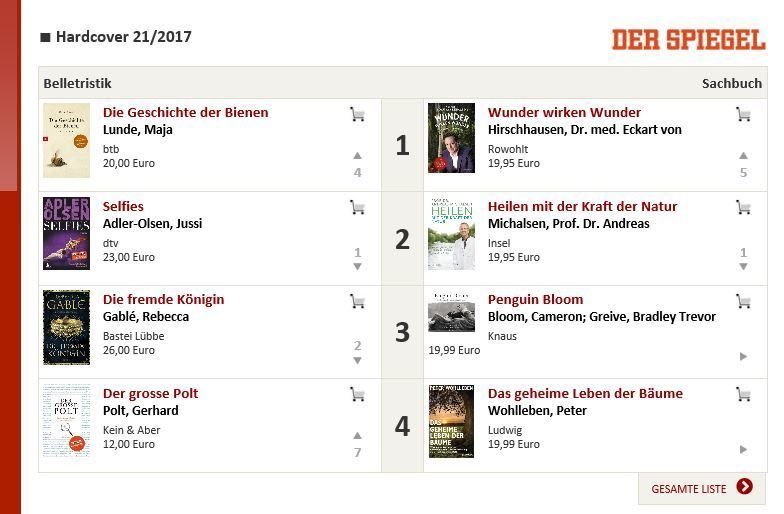 William is a depressed biologist and seed merchant in England 1852. Now he sets out to build a wholly new type of beehive, which will give him and his children honour and fame. George is a beekeeper in the USA in 2007 and fighting an uphill battle, but he hopes that his son can be the farm's salvation. Tao works with hand pollination in China in the future, where the bees have disappeared. She wants more than anything else for her son to receive an education and a life that is better than her own.
The History of Bees is an epic novel about the death of the bees. Three stories are interwoven, whereby past, present and future meet.
Lunde works on a broad canvas in Bienes historie, depicting human beings' initial humble attempts at beekeeping, the industrial agriculture of today and a future where the bees have died. The stories also explore people's relationship to religion, to knowledge and in particular, to nature. Bienes historie is a global novel with great relevance in a world where the climate is changing at an increasingly rapid pace. But underlying this theme are three powerful stories about relationships between parents and children. What the three main characters have in common is that they will do anything for their children. They want to facilitate things for them, ensure that their children have lives that are better than their own.
Praise for The History of Bees:
I would describe "The History of Bees" as a cross between "The Hunger Games" and Margaret Atwood's brilliant "MaddAddam" trilogy. It circles around the possibility of a global environmental catastrophe, but is replete with sensitive renderings of the relations between parents and children … There is an oscillation between the deeply personal dynamic of family relationships and the science fiction-like superstructure, which I really liked. Character depictions are nuanced and scenes are brought into focus with a cinematic sharpness … "The History of Bees" is quite simply the most visionary Norwegian novel I have read since the first instalment of Knausgård's 'My Struggle'.
Expressen, Sweden
Those who think Maja Lunde's novel "The History of Bees" is about beekeeping and looming catastrophes of an ecological nature should be informed at once that this is only how it appears on the surface. What drives this story is weightier than this, and more powerful. Although there are plenty of bees buzzing about in this book, the humming undertone which makes it a great novel derives from another source, closer to that of life itself … Three voices in a compelling conversation, three threads woven together into an epic tale which does not primarily revolve around the disturbance of nature, but around profound human passions. Maja Lunde has an uncommonly clear view of the half-articulated games which play out between human beings, especially within the four walls of the family. She knows a lot about parents who love their children more than each other, and the burden of the three-sided dramas which often follow… "The History of Bees" is complex and extraordinarily well-written, and in addition as exciting as a psychological thriller. Svenska Dagbladet
Magnificent tale of the importance of bees and the individual. Dagbladet
As the story develops, this book subtly transformes from The History of Bees to The History of Us.Klassekampen
A first-time novelist who is brave enough to spread out a great, epic canvas and in addition brings up a provocative and current topic, is not something you see every day. Aftenposten
Read, read, while the bees can still buzz around your head. Get wise, get rich, get scared… Weekendavisen
… a great work of art about the key to human survivor… Svenska Dagbladet
Intensely exciting. Færelandsvennen
Strikingly beautiful. Stavanger Aftenblad
Working on my second novel Blue, which will be published in Norwegian in October this year, it gradually became obvious to me I wasn't done telling the story I set out to tell in The History of Bees, and that the lives of Tao, William and George are also part of something larger. A story that, when it is completed, will fill the four volumes I call The Climate Quartet.
I realized I was nowhere near done writing about man and nature, neither had I stopped imagining a future where the consequences of the way we treat our wonderful earth has become ever more grave than what we see today. And from these thoughts, the idea of writing four, loosely connected books evolved, each one a stand-alone novel emphasizing specific, clima related themes: Insects, water, animals, and finally seeds and all things that grow.
Each novel has parallel storylines that play out both in our time and somewhere in our not-too-distant future, in addition to gazing back at our past. All four explore humans in nature and the consequences of the choices we make, not only with regards to nature and the climate, but also the people around us. Because it is through the exploration of our closest boundaries – within families, between lovers, between parents and children – one best sees the reflections of the larger picture.
Maja Lunde
18.05.2017
Read More