Understanding Animals. Philosophy for Dog Lovers and Cat Lovers
Would you understand your dog if it could talk?
Most of us have no dobuts that a dog is happy when it wags its tail or that the cat is pleased when it purrs. But how do the animals we are surrounded by actually think? And can we really understand them?
Lars Fr. H. Svendsen has written a book about understanding animals, with examples and discussions from the history of philosophy. From the French philosopher who feel shame when he stands naked in the bathroom and the cat looks at him, to the philosophical questions whether animals can be lonely.
Understanding animals is an informative, entertaining and witful book about animals and whether it makes sense to describe our animals with human characteristics.
REVIEWS
"Understanding Animals is the type of book I have been wanting to read for a long time, I just realised it  when I got it. I like both cats and philosophy – this was a joy to read – de luxe"
Kjetil Røed, Vårt Land
Recommended reading – dice throw 5
"In this book on understanding animals, professor in philosophy Lars Fr. Svendsen goes through questions to which animals have consciuosness, moral, language, feelings and intelligence.
It is odd, Svendsens states, how philosophers have refused to aminals a consciousness and the ability to think.
Svendsen isn't just a clear mind and well bespoken. He is witty."
Cathrine Krøger, Dagbladet
"Philosopher Lars Fr. H. Svendsen has written an intelligent book on dogs and cats: Can we understand the animals? A wise reflection in the debate about animal welfare"
May Synnøve Rogne, Aftenposten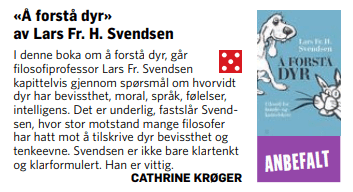 Links to reviews:
https://www.aftenposten.no/kultur/i/l101Wy/Filosof-Lars-Fr-H-Svendsen-har-skrevet-smart-om-katter-og-hunder-Kan-vi-forsta-dyrene
http://www.nationen.no/reportasje/se-hund-snakker/
https://www.vl.no/kultur/anmeldelse/klokt-om-dyr-1.1153499?paywall=true
Read More