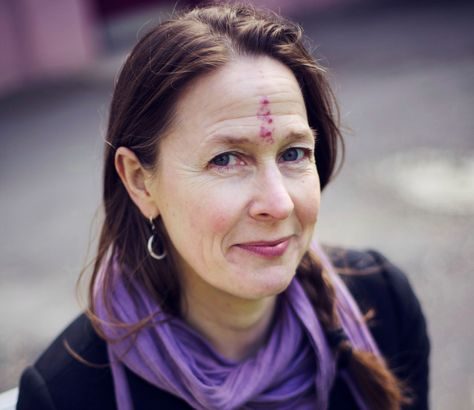 Anne Oterholm
Winner of the Aschehoug Prize 2010
Anne Oterholm was born in Illinois in the US in 1964 and grew up in a small town outside of Oslo. She made her debut  in 1995 with the novel nothing else than what you want, for which she received the Bokklubben Nye Bøkers Prize for Debut Author of the Year. In 1999 she was awarded Tanum's Scholarship for Women and in 2010 the Aschehoug Prize. Oterholm was head of the Norwegian Authors' Union 2005–2012.
From the Aschehoug Prize jury statement:
"[Anne Oterholm] is a writer who through her seven published novels, without yielding to compromise, has developed a unique and risky literary project. It's risky because she has chosen motives that can be taken as banal or melodramatic: Just listen: Love triangles, promiscuity, forbidden desire, alcoholis, irresponsible parents, yearning teenagers.
It's doubly risky because the literary form she uses is in glaring contrast to her motives, and has been called both 'boring', 'superficial' and 'uncomfortable'.
…
If this form is simple or superficial, it is so in the same that minimalist painting architectue is simple: behind the final result there is an enormous amount of care and precise craft.
…
By relaying thoughts and conversations, what we could call the mental surface, she explores mental defense strategies. What she does so brilliantly is to show us where thought ends, territories we refuse to enter, things we are afraid to acknowledge. It is eerily recognizable and topical, it is as if she forces us to look into the blind spots of her characters, thereby acknowledging the existence of our own blind spots.
In this jury's opinion, Anne Oterholm has found a unique literary form which not only explores existenial problems, but which also gives the reader an experience of existentially fundamental drives and fears. She demonstrates that surface and banality cannot be separated from the existential, and that the seemingly simple and incidental carries as much meaning as the complex and dramatic. And she challenges us on both a literary and an intellectual level, which is important in itself."
Read More